Windsor Castle is a worldwide icon for England. Built in the eleventh century, it has been in continuous use as a royal residence since William the Conqueror–the only structure that fits that description. To date, thirty nine royal generations have called this home. In recent times, Windsor Castle became more of a weekend retreat for the royal family, although formal events also occur here.
William the Conqueror founded the castle and is credited for its original design, however, Edward III, Charles II and George IV all left their marks creating new sections and improving the exterior. Today it is as sumptuous as any stately home and befitting a royal family. As a visitor, I was not allowed to photograph the interior, unfortunately, so all my pictures are of the exterior.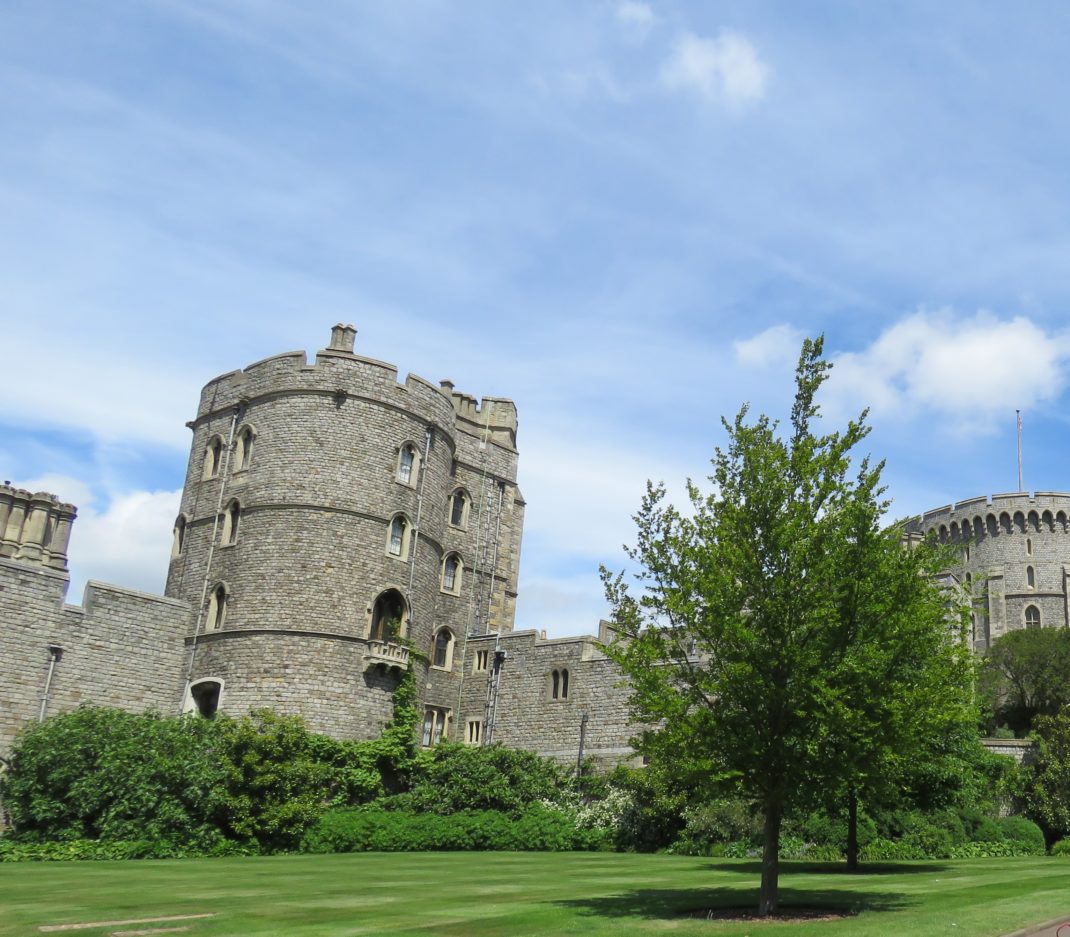 The castle was originally meant as a fortress from which to defend from enemies but quickly became a place for the royal family to live and to entertain state guests. Though its first carnation, began in 1070 and completed in 1086, had outer walls built out of timber, Henry II had it re-walled with stone. Many monarchs left their mark in this impressive castle, however, it was King George IV's vision who remade it into the lavish palace it is today. Never one to hesitate to spend staggering amounts of money on his own pleasures, King George IV (formerly the Prince Regent for which is named the Regency Era) created an almost fairy-tale-like quality that is today's Windsor Castle. Queen Victoria spent much time here, using Windsor Castle as her country retreat as well as a place to entertain state and foreign visitors, much as it is used today. During her reign, it also became a favored location for family gatherings, weddings, and celebrations.
Another major player in today's castle décor was the fire of 1992. It is ironic that the castle survived World War II bombings when so much of London was destroyed, only for such devastation to come from a fire. During a major rewiring project–at which time someone inspired soul had the wisdom to have most of the art and furnishings removed–a fire began in Queen Victoria's Private chapel in the northeast corner of the castle. Investigators believe a curtain blew too closely to a spotlight, which caused an ignition over the altar. The fire spread with astonishing speed.
While the world watched with breathless horror, 200 firefighters battled the blaze for 15 hours. In the typical indomitable spirit which defines the British, they began restoration immediately. During my visit, a kind tour guide standing inside Queen Victoria's chapel showed me photos of the castle before, during, and after the fire and explained the tragic events that transpired there. I drank it all in, equally horrified and fascinated. Heart-rending video, as well as photos of just after the fire, and of how it looks now after the restoration can be viewed here. I wish I could have gotten copies of the before and after photos that I saw, but for some reason those were not available for the asking.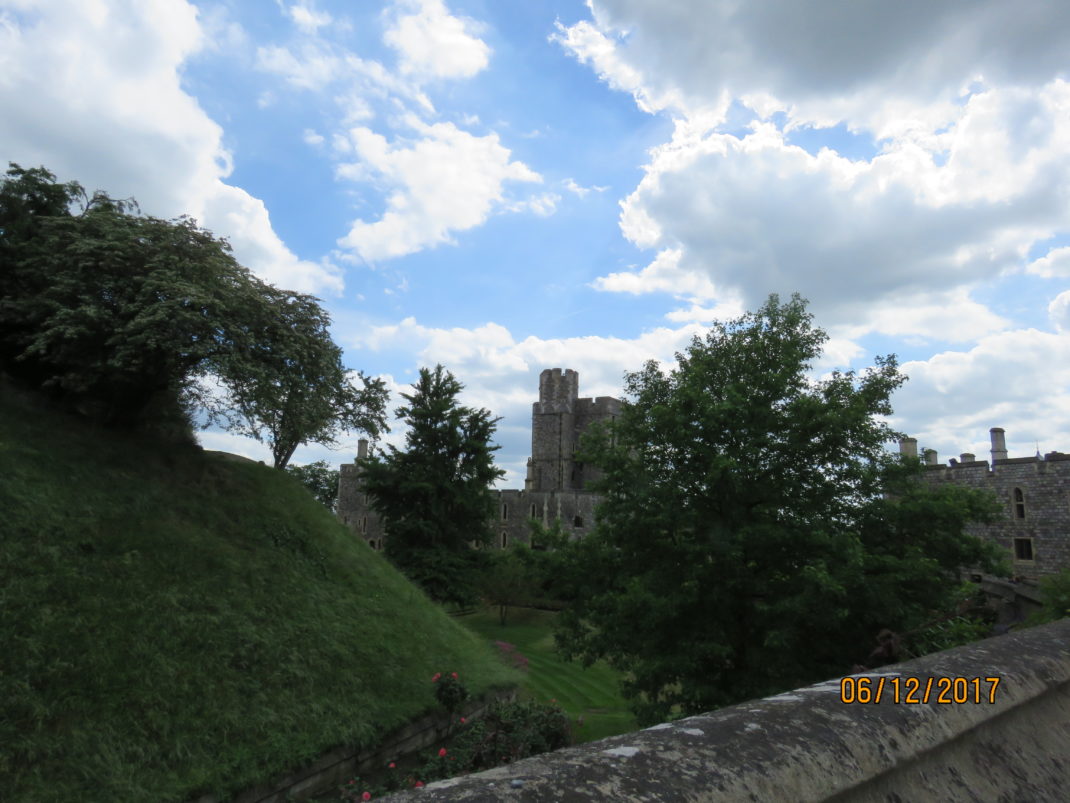 Today, most of the restored areas are even more beautiful than before the fire. St. George's hall, a breathtaking medieval hall honoring knights, looks even better now than it did before the fire, with much lighter wood details on the ceiling than its twelfth century version. The workmanship was identical to medieval techniques, which satisfied the history nerd in me. According to the Official Souvenir Guide, "the castle is now in better condition than at any time for the last 200 years."
I lingered in delight over the queen's doll house filled with miniatures. I also basked in the beauty of the Queen's drawing room where so many of my heroines from my novels would have taken their bows to the queen. The state rooms also invite one to linger and bask in the beauty and history, not only of the castle, but of the people whose heritage is so rich with tradition and honor.
The gardens are lovely! Built in what was originally intended to be the moat but never served in that capacity, the gardens are a lovely refuge where I would loved to have lingered.
Now that I've seen it, I want to write at least one scene in a future book that takes place in Windsor Castle. Perhaps my hero or heroine are invited to Windsor Castle for some state function. Or perhaps for a secret mission. Hmmm. The possibilities are endless.
But for now, my hero and heroine have their hands full in my upcoming release, Courting the Country Miss, coming soon. I'm very excited because this features characters from one of my previous books called Courting the Countess.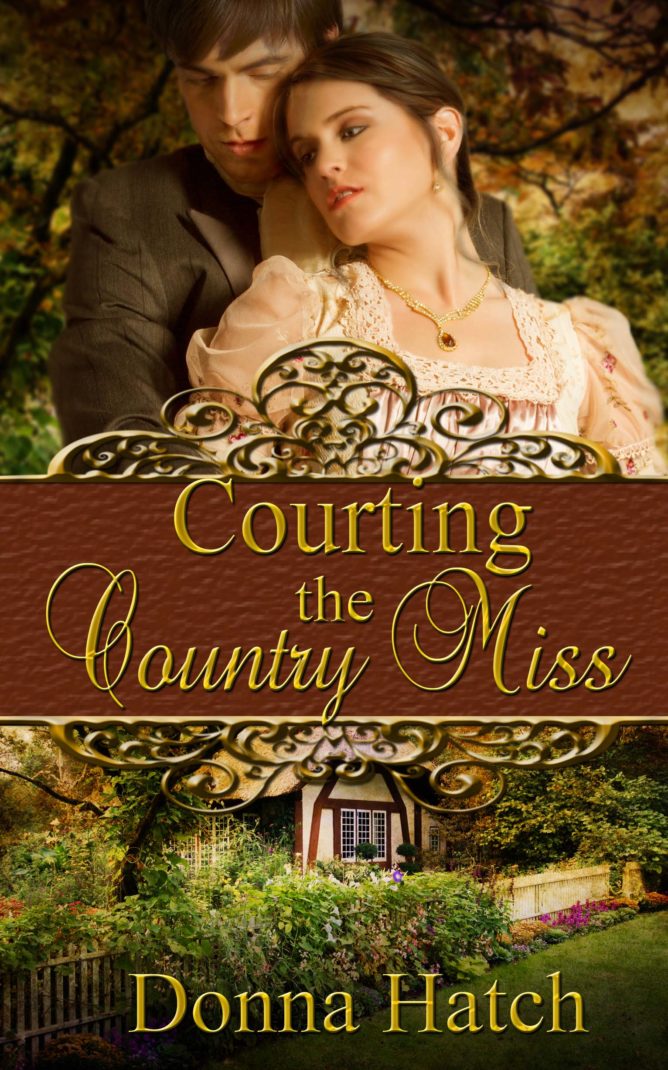 Here is the back cover blurb for my newest Regency Romance, Courting the Country Miss:
Cynical and broken-hearted, Leticia banishes dreams of marriage. When her childhood friend, Tristan, wagers he can find her the perfect husband, she hopes the challenge will coax him to forgo his devil-may-care lifestyle. Meanwhile, Leticia throws herself into forming her charity school but meets opposition—even from the people she's helping.
Guilt-ridden that his past mistakes robbed Leticia of true love, Tristan vows to set it right, but match-making has its pitfalls for a repentant scoundrel. When he finds two 'perfect' gentlemen to court her, he discovers his own deep feelings for the lady.
Though Tristan seems to reform, Leticia doesn't dare risk heartbreak with a notorious rake. When opposition for the school takes a deadly turn, can Tristan protect her from a madman bent on destroying their dreams and their lives?
Courting the Country Miss is available now from Amazon or directly from my publisher as well as other retail book stores.
Sources:
Most of this information came from the walking tour of London I took during my Regency Tour with Number One London Tours, plus my own observation during my visit. However, another source for further reading is Gaelen Foley's excellent blog about Regency Country House & Townhouse.
Windsor Castle
posted first on
http://donnahatchnovels.tumblr.com/